Ink Pad Holder Compatibility
Sanfurney Ink Pad Holder can store various ink pad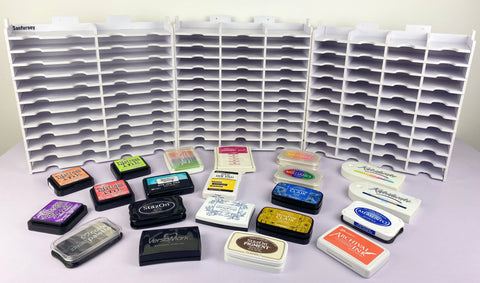 The following list is the suitable ink pad for the ink pad holder after testing. If you are wondering which ink pad holder is more suitable for storing your ink pads, you can refer to the following list for comparing your ink pads to make sure they are suitable.
The Compartment size of the ink pad holder:
24 slots Distress Ink Pad Holder: 6.1″ W x 2.9″ D x 0.86″ H (15.5x7.5x2.2cm)
36 slots Standard Ink Pad Holder: 3.9″ W x 3.9″ D x 0.86″ H (10x10x2.2cm)
44 slots Slim Ink Pad Holder: 2.9″ W x 3.9″ D x 0.9″ H (7.5x10x2.3cm)
NOTE: 
A variety of ink pads have different sizes. Always measure your ink pads dimension is the best way to make sure they will fit.
Ink Pad

Stampin' Up(Spectrum Pad)

No

Yes

Yes

Recommended

Stampin' Up

(Older Pads)

No

Yes

No

Versa Craft

No

Yes

No

Ranger (Archicval Ink)

No

Yes

Yes

Recommended

Ranger (Dye Ink Pad)

No

Yes

Yes

Recommended

Color Palette

No

Yes

Yes

Recommended

Archivcal Brilliance

No

Yes

Yes

Recommended

Tsukineko Stazon

No

Yes

Yes

Recommended

Memento

No

Yes

Yes

Recommended

Versa Mark

No

Yes

Yes

Recommended

VersaFine

No

Yes

Yes

Recommended

VersaFine Clair

No

No

Yes

Stazon Pigment

No

No

Yes

Distress Ink

Yes

No

No
Let's choose the most suitable ink pad holder for you 
-Ink Pad Rack